The Bank of England decided not to cut rates in a move that surprised many and boosted the pound. However, it kept us waiting for the next decision, just three weeks away. Here are three reactions:
BoE On Hold As We Expected; Paving The Way To An August Rate Cut – Barclays
The Bank of England Monetary Policy Committee has maintained its policy stance, keeping the official Bank Rate at 0.50% and the Asset Purchase Facility programme at £375bn, as we had expected. By doing so, it remained consistent with its announced two-step strategy of an initial assessment in July, followed by a "fuller" assessment in August as well as likely policy easing "over the summer".
What has changed, however, is the split of the vote for the Bank Rate decision. Against our expectations, only one member dissented (Gertjan Vlieghe) and voted for a cut in the Bank Rate.
Markets had increasingly priced a 25bp rate cut at today's July meeting (Figure 1), with a cut being approximately 80% priced in just prior to the outcome announcement. According to Bloomberg last week (8 July 2016), 30 of 54 economists surveyed predicted a cut in the Bank Rate, with a majority of those expecting a 25bp reduction to 0.25%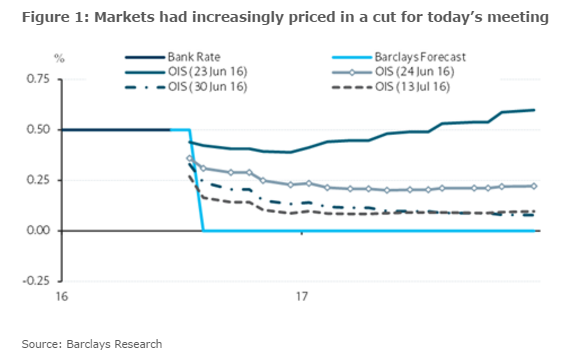 BoE Preannounced Easing In August: What's Next For GBP? – Danske
Against our expectation, the Bank of England (BoE) maintained the Bank Rate at 0.50% . Given BoE Governor Mark Carney's very dovish speech two weeks ago in which he said that 'some monetary policy easing will likely be required over the summer' due to a deterioration in the economic outlook, we expected a 25bp rate cut today in line with market pricing. One member of the Monetary Policy Committee, Gertjan Vlieghe, voted for an immediate cut. As widely expected, the stock of purchased assets was unchanged at GBP375bn (vote count 9-0).
While the Bank of England did not ease monetary policy today, it preannounced easing at the next meeting on 4 August , as the minutes state that 'most members of the Committee expected monetary policy to be loosened in August' . The reason is that there are 'preliminary signs that the result has affected sentiment among households and companies with sharp falls in some measures of business and consumer confidence' . The BoE plans to publish its new economic forecasts in the next Inflation Report in connection with the August meeting. We continue to expect it to cut rates down to 0.00% and possibly ease using unconventional tools as well in August but given today's announcement, we believe the risk is the BoE will ease less aggressively, e.g. by cutting only 25bp.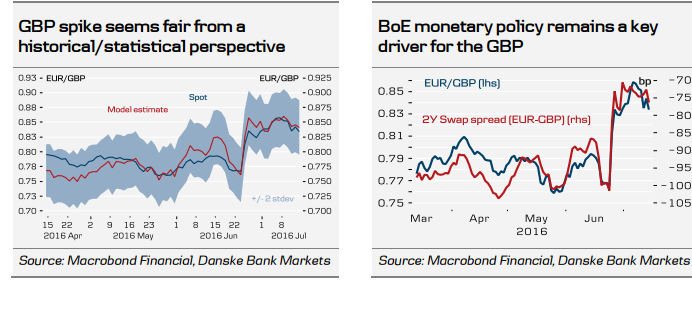 With a full 25bp cut priced in interest rate derivatives markets for today's meeting, the GBP naturally saw an initial knee-jerk reaction higher before losing some of the gains as the outlook for more BoE easing remains. According to our models, the moves in both EUR/GBP and GBP/USD seem fair from a statistical perspective. Going forward, the greatest source of volatility related to the GBP remains the significant UK current account deficit of roughly 5% of GDP. As we expect uncertainty on UK FDI and portfolio flows to remain a key theme in FX markets, we expect balance of payment flows to constitute GBP negatives. Also, while market pricing – even after today's surprise move – remains aggressive (34bp worth of cuts accumulated for H2 16) more BoE easing would also weigh on the GBP. Longer term, we expect the GBP to stabilise on the back of valuation and a narrower current account deficit.
We still forecast EUR/GBP at 0.86 in 1M, 0.88 in 3M, 0.90 in 6M and 0.88 in 12M.
Why The BoE Didn't Cut Today? What's Next? – CIBC
The most eagerly awaited Bank of England policy decision in years came and went without any change in interest rates or asset purchases. However, there was a strong hint that stimulus measures will be forthcoming at the next meeting on August 4th.
In contrast to consensus expectations for an immediate 25 bp cut, the BoE held its benchmark rate steady at 0.50%. The vote was almost unanimous, with only one member calling for an immediate 25bp reduction. There was also no extension to the BoE's asset purchase program, meaning that the stock of purchased assets remains at £375bn.
However, it does appear that the Bank of England will loosen policy at its next meeting in early August. The statement mentioned that, based on their initial assessment of the impact of the referendum vote on the economy, "most members" expect monetary policy to be loosened in August. It was also stated that the "precise size and nature" of that stimulus would be determined based on the revised economic projections in the August Inflation Report. That appears to keep the door open to more than just an interest rate cut.
Note that it is common for the Bank of England to wait to make significant policy changes at meetings that are accompanied by an Inflation Report. Also, because of the timing of meetings, the next decision is less than a month away, which also likely played a role in the decision not to rush through stimulus today.
The strong hint that stimulus will be forthcoming at the August meeting means that market reaction to today's stand-pat vote was initially limited, with sterling settling only marginally higher versus the US$.