I've had the privilege to be part of Winner's Edge Trading's Explosive Growth Mentoring trading room these last two days. Now I've been trading a while and most of these concepts are not new to me. But to watch Casey Stubbs (Winner's Edge Founder) put them into practice is nothing short of wonder. I don't want to put Casey on a pedestal. He's too humble and down-to-earth for that sort of thing. And really, he's not doing anything that the average, moderately intelligent individual couldn't do, but to see it in action is awesome.
I've known Casey for some six or so years now and I know he has used many of these strategies in his trading for much of that time. But I also know he has hesitated to teach them to other folks because, if those folks are not properly mentored through the thought processes behind these strategies, they can kill their trading accounts in about ten seconds flat. Hence the format of this training.
For starters, Casey entered a trading competition back in early November with a $50 trading account. Right now, in early January, he has traded that account up to around $2,300. You can see the verified track record at MyFXBook right here. That's an unbelievable %4500 increase. And he does it in a few hours in the morning and the occasional after-hours trade.
Casey uses a combination of tools (he uses the Winner's Edge Trading Strike Scalper tools – but will be glad to tell you how to do it without them) and strategies (both trend-following and counter-trend strategies) in his trading and shares them freely with the trading room – including his thought processes on each trade. He's open about admitting to mistakes – which he makes periodically – and then discusses what he should have done.
This morning we took several trades. I want to discuss one in particular that could have gone down in flames but for Casey's Three Bullet strategy. The AUD/USD was dropping to a strong support level and was showing overbought on several time frames. We took a long position, expecting a bounce – which didn't come. Price continued to drop, so we "fired another bullet" at the trade – in other words, we took another long position at the next support level.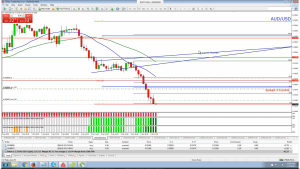 While the price bounced up and down a few times, we closed the second "bullet" and re-opened it, making some small profit each time, effectively washing the first position (which was negative.) Finally we got the bounce we were looking for and got out of the trade (including the first position) with some nice profit.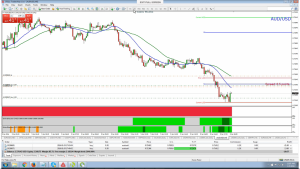 The first two images were from the trading room, but the bounce actually happened after the room closed, so the last image is from my own platform.
This is an example of the trading that's taking place in the Explosive Growth Mentoring trading room. The current room takes place during the New York session (8am NY Time), but Casey says he will soon have sessions at other times during the day.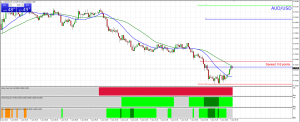 The training continues for three weeks.
I'll be posting articles about the room and the trading throughout the training. And, if I can get away with it, I might slip in a few of Casey's secrets, too. Shhhh. Just don't tell anyone.

Until next time,
Tim