This is my second week in the Explosive Growth Mentoring Series trading room. I've been experiencing explosive growth in my account for sure. I opened a small account last Tuesday afternoon just for this room and it has done so well that I added cash to it and expect to add some more this week. My account is currently up over 80% from opening (not including the added cash.) I've revamped my trading plan to include the strategies I'm using on my account that have been so successful.
Casey got stuck in a bad position on the USD/CAD and the market just steamrolled right over him. That happens sometimes. The market is the market and it doesn't care who or what it hurts. Casey took his loss and will move on and make it back. I've seen him do it many times. That's what makes a professional trader. In Forex trading, you're not done until you say you're done. Be prepared to take some losses when using explosive growth techniques, because they can and will come. I'm sure Casey will do a video in a day or so explaining what happened and how he plans to adjust for it.
Anyway, I got "stuck" in a position this morning. I hate getting stuck. I like to get in, get my pippage, get out, pour a coffee and chill. I like it when I have no trades on so I can get up and walk away whenever I get bored or distracted. No stress of having to have my nose in the monitors and watch every move. So, when I get stuck I just hate it.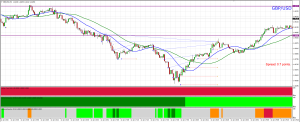 Let me explain getting "stuck". I analyzed the GBP/USD this morning and found a great support level with all the cool supporty things that make a level great. I had a confluence of: a daily support level, a daily trend line, Current Low of the Day, "G2" on the exhaustion indicators (RSI < 30 on two time frames) and to top it all off, I had a 50 level (last two pip digits of the price were 50.) I thought, it's going to bounce here. But if it doesn't, it will bounce down here a little further where there is more support.
My best strategy is to find a pair with two or three significant support or resistance features and trade with the expectation of a bounce from that level. I trade with fairly large size and look for 5-10 pips profit on the trade. My plan is to do that three to five times a day. It works well when the market is slow because bounces are more likely than breaks – but it takes forever. So I like to do this during the New York session for a couple of hours in the morning when the market is moving better and I can get in and out faster.
But, what if the bounce doesn't come? What if I never get my 5 pips? That's what I mean about getting "stuck". Now I've got to move to the Three Bullets strategy and look at the next support level so I can "wash" out my loss on the first position by making profit on subsequent positions. Now, I have to watch the chart like an eagle – looking for small profits on the "bullets" as the price goes in my direction and looking to "fire" additional bullets when it goes against me.
My "Three Bullets" strategy is slightly different than Casey's. I'm willing to fire quite a few bullets as long as the market is not just freight-training against me. If it starts that, I just take the loss and go home. But each time the pair bounces, I get small profits. I opened and closed nine positions like that while the price was dropping and recovering. By the time price got back up to the 1.4400 level, I was able to close my last two positions, one at break even and the other for a small loss, for an overall gain of around 13% on my account on this one group of positions. But, as you can see from the one minute chart above, I was in this trade for 109 minutes. That was 109 minutes that I couldn't leave my desk and walk away. My two prior positions for the day (which netted me around 4%) were 23 minutes and 12 minutes.
Did I mention I hate getting stuck?  Before I enter a position I repeat one of my favorite trading mantras. "Would you rather be in a trade wishing you were out of it or out of a trade, wishing you were in it?" Well, my answer is: I'd rather be out wishing I was in, so I could get up and use the bathroom.