Thursday the EUR/USD made a massive reversal to the upside, so what does this mean for the EUR/USD?
Well if we take a look at this reversal this actually has several clues as to where this market could be going. The first thing I want you to notice is that the pair bounced off of a very important support level. And for most of 2015 the EUR US dollar was trading sideways as you can see here. So really the strong move was just a bounce in a ranging market. It has been a very big range but it is still a range.
The next thing I want you to notice is that it had a strong powerful bullish break out with momentum of the current trend line. When the market makes that type of breakout is usually a signal for further gains.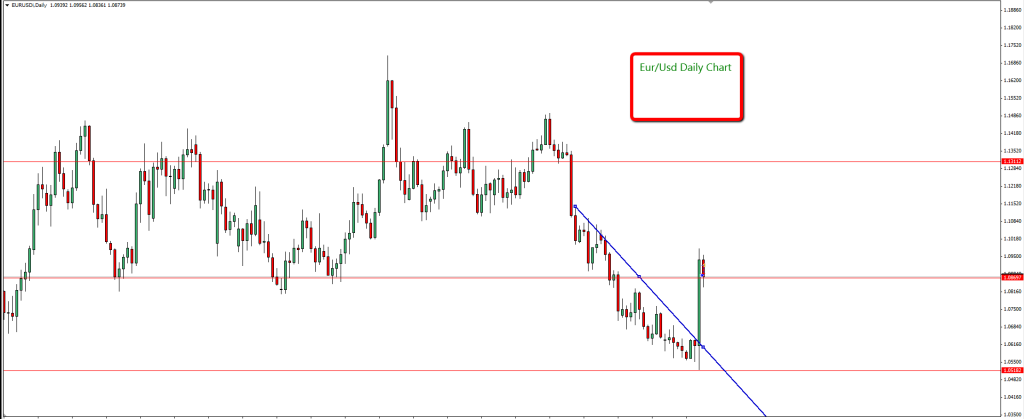 In addition to the trend line break it also broke through a critical resistance point. You can see the red line on my chart has this resistance point drawn and now price is just sitting right on that level. So with all of those elements in play my conclusion is that we will see some more bullish momentum on this pair. The way I would play this is to look for support levels and then when you identify those levels then look for entries on those levels trading this particular way will greatly increase your win rate and your trading profits.
Yesterday I took a trade based on the breakout of the EUR/USD I zoomed down to a 15 minute chart and I entered long on a pullback because of the price action that I described above. This particular trade moved really quickly right into my target and I made a nice 10% gain on the trade.
It's days like that that make trading fun because you only have to enter one trade for short period of time make a few pips and make 10% in as little as an hour. Now those types of trades don't happen all the time but when they do it's fantastic.
Please Leave a Comment on What you think of The Eur/Usd?